PAWN TO INFINITY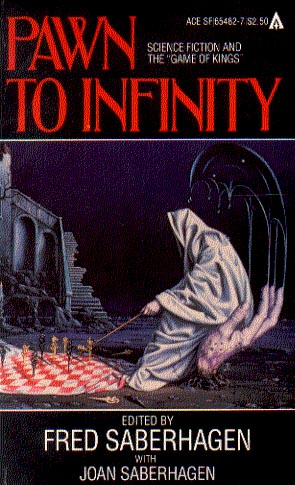 PAWN TO INFINITY. ACE, 1982. ISBN: 0-441-65482-7
Wherever man goes, his wars go with him. And every culture has expressed itself in games that play at war--games of nerve and strategy in which the winner is he who best foresees the twists of his opponent's mind. Chess, the "game of kings," carries this mock conflict to its most sophisticated extreme.
Here is a selection of stories from the finest writers of science fiction, all of whom understand how both glory and tragedy can be outlined on a checkered board.
Poul Anderson, THE IMMORTAL GAME
Fritz Leiber, MIDNIGHT BY THE MORPHY WATCH
George R.R. Martin, UNSOUND VARIATIONS
Joanna Russ, A GAME OF VLET
Fred Saberhagen, TO MOVE AND WIN (the first story of the Berserker saga, alternate title WITHOUT A THOUGHT)
Roger Zelazny, THE UNICORN VARIATION
Gene Wolf, THE MARVELOUS BRASS CHESSPLAYING AUTOMATON
Ruth Berman, A BOARD IN THE OTHER DIRECTION
Victor Contoski, VON GOOM'S GAMBIT
Daniel Gilbert, KOKOMU
Ambrose Bierce, MOXON'S MASTER
Robert Frazier, RENDEZVOUS 2062
Alfred Stewart, REFLECTIONS ON THE LOOKING-GLASS, AN ESSAY
Chess and fantastic fiction began an enthusiastic encounter with each other at least as far back as Lewis Carroll, and the mating is still in progress. Both contain strong elements of conflict and both are set in worlds where time and space are subject to transformation; the ordinary rules of human existence do not apply. Therefore both tend to appeal to the same kind of mind: an interest in the fantastic is very often a sign of interest in chess, and vice versa . . . -- Fred & Joan Saberhagen
The above taken from the cover and frontal page of the Ace, 1982 edition.