JOAN'S BOOKSHOP

;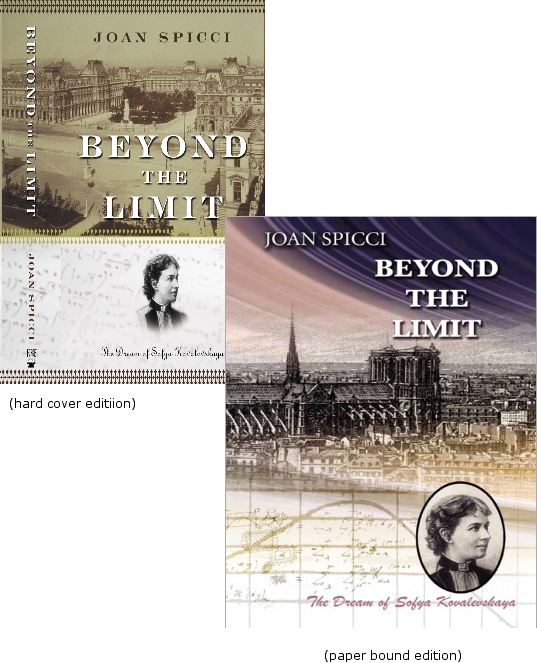 | | | |
| --- | --- | --- |
| BTLpp | BEYOND THE LIMIT : The Dream of Sofya Kovalevskaya (paper bound) | 16.00 |
| BTLhd | BEYOND THE LIMIT : The Dream of Sofya Kovalevskaya (hard cover) | 26.95 |
| PTFpp | PAWN TO INFINITY (pp) | unavailable |
An eBook edition of BEYOND THE LIMIT is available at Diesel eBooks.
For shipment within the US of a single copy add $5 for shipping and handling.
New Mexico residents add 6.88% tax to your total.
For shipment outside the US, request shipping charges. Single copies most likely to be $11.00..
For large quantity orders, request special pricing.
Above prices in US dollars.

Before you send any money, please email your request to :
joan@joanspicci.com
Include your mailing address, and whether you would like the book autographed and personalized.

Payment will be to :
Joan Spicci Saberhagen
PO Box 11243
Albuquerque, NM
87192
The preferred payment option is transfers to the PayPal account: Joan Spicci Saberhagen
Otherwise, a money order is preferred to a check. If you send a check, expect a two week shipping delay while the check clears.